Mr. Clearco Food Grade Silicone Spray (NSF/USDA H1)
Mr. Clearco is an all-purpose silicone spray. This product prevents sticking, provides slide, reduces friction and is VOC compliant for industrial applications.
View product specs:Click here to view
View MSDS:Click here to view
View SDS:Click here to view
Availability: 13 oz. Aerosol Spray Cans. Also available in bulk as SFG-350 Minimum order is 1-case (12-cans)
NSF Registration: #05281
Category Code: H1
Formulated for use in Food Processing, Food Packaging, Bottling and Canning facilities.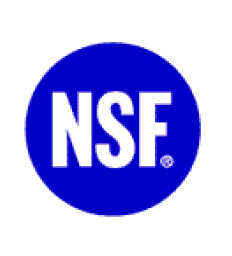 Use: Mr. Clearco Food Grade Silicone Spray is formulated for use in the Food Industry. It is registered with the NSF/USDA as an H1 lubricant that is approved for use in food packaging and food processing applications where incidental contact with food may occur. In addition, it meets or exceeds FDA 21 CFR 175.300 for use in federally inspected food processing plants. The active ingredient is 100% food grade polydimethylsiloxane (CAS # 63148-62-9).
The silicone film that is imparted on the surface provides excellent lubricity, high dielectric strength, and protection against corrosion. It is safe to use on the majority of plastic and rubber surfaces. A fine spray is all that is required to keep materials moving freely on bins, chutes, conveyors, glides, assemblies and other surfaces. Mr. Clearco Food Grade Silicone Spray's formulation and clean spray pattern are ideally suited for applications in Meat Packing plants, Poultry plants, Dairy Plants and Bottling Facilities.
Food Grade Specifications
Formulated for Food Processing, Packaging, Bottling and Canning Applications
Registered with the NSF/USDA as an H1 Lubricant
Approved for applications where incidental contact with food may occur
Meets FDA 21 CFR 175.300 for use in Federally inspected food processing plants
Food Processing Specifications
Heavy mist-wet spray pattern
Imparts a light silicone film for slide on food conveyors chutes, cutting knives an tabletops
Prevents food from sticking on conveyors, ovens, freezing trays, baking tins, cooking coils
Helps prevent the adhesion of grease
Safe on plastics, rubbers, vinyls & foams
Allows cellophane, pilofilm, saran, and vinyl polyethylene to move freely over sprayed surfaces
Protects against corrosion and carbon buildup on food sealing equipment
Final film (100% polydimethylsiloxane) is clear, colorless, odorless, non-staining, dielectric and inert
Provides lubrication and maintenance for Food Processing, Canning and Bottling applications
Prevents buildups of sugars and food, allowing for fast and easy cleanup
Environmental Specifications
RoHS Compliant
Contains no CFC's or ozone depleting chemicals
Contains no ozone-depleting chemicals
Contains no Acetone
Contains no Hexane