PSF‐350cSt Pure Silicone Fluid NSF H1 Food Grade
Chemical Name: Linear Polydimethylsiloxane (PDMS Silicone)
CAS No: 63148-62-9
Viscosity: 350cSt
View product specs:Click Here to View
View MSDS:Click Here to View
View SDS:Click Here to View
Availability: 1-gallon (3.6kg), 5-gallon pail (18kg) & 55-gallon drums (200kg)
NSF Registration: #134111
CATEGORY CODE: H1
Product Equivalent: Dow Corning 200®, 350cs, Xiameter® PMX‐200, 350 Food Grade, Momentive Element14PDMS 350 PDMS 350and GE SF18 and GE SF 18‐350cSt, Wacker® AK‐350, Shinetsu DM‐350, Rhodorsil® 47 V 350, BluesilTM 47 V 350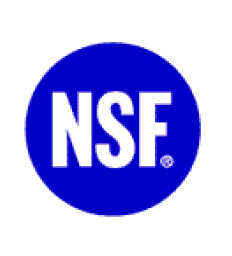 Formulated for use in Food Processing, Food Packaging, Manufacture of Paper & Paperboard, Bottling and Canning facilities
PSF‐350cSt Pure Silicone NSF H1 is a clear, colorless, and odorless 100% PDMS Silicone Oil / Polydimethylsiloxane fluid (CAS # 63148‐62‐9) with a viscosity of 350cSt (centistokes). It is used as a lubricant and release agent in a wide range of applications that include: Food Processing, Food Packaging, Manufacture of Paper and Paperboard for Food Products, Food Treatment, Bottling and Canning, Food Transportation and Food Shipment.
PSF‐350cSt Pure Silicone NSF H1 is the base fluid for our full line of food grade lubricants, food grade emulsion, food grade spray, and food grade grease. It is widely used for lubricating O‐rings, gaskets, valves and seals where a food grade lubricant is required.
Pure Silicone 350cSt (food grade) is registered with the NSF (a continuation of the USDA) Nonfood Compound Registration Program as an H1 lubricant that is approved for use in food processing and packaging areas where incidental contact with food may occur.
NSF H1 Registration No: 134111
Meets the requirements of the following FDA regulations: FDA 21 CFR 173.340 Defoaming Agent FDA 21 CFR 175.105 Adhesives FDA 21 CFR 175.300 Resinous and Polymeric Coatings FDA 21 CFR 175.170 Components of Paper & Paperboard in Contact with Aqueous & Fatty Foods FDA 21 CFR 175.180 Components of Paper & Paperboard in Contact with Dry Food FDA 21 CFR176.210 Defoaming Agent used in the Manufacture of Paper and Paperboard FDA 21 CFR 177.1210 Closures with Sealing Gasket for Food Containers FDA 21 CFR 178.3120 Animal Glue FDA 21 CFR 178.3570 Lubricant with Incidental Food Contact
Benefits:
Approved for use in Food Processing, Food Packaging, Meat Processing, Poultry Packaging, Bottling and Canning facilities where incidental contact with food may occur.
Prevents food from sticking on conveyors, ovens, freezing trays, baking tins, cooking coils
Helps prevent the adhesion of grease
Safe on plastics, rubbers, vinyl & foams
Safe for O‐rings, gaskets, valves and seals *
Protects against corrosion and carbon buildup on food sealing equipment
Prevents buildups of sugars and food, allowing for fast and easy cleanup
* not recommended for silicone O‐rings due to potential for swelling
Food Processing Applications Include:
Food Grade Lubricant and Release Agent in Meat Packing plants, Poultry plants, Paper & Paperboard Manufacturing for Food Containers , Bottling Facilities, and Dairy Plants
Imparts a light silicone film for slide on food conveyors chutes, cutting knives and tabletops
Prevents food from sticking on conveyors, ovens, freezing trays, baking tins, cooking coils
Helps prevent the adhesion of grease
Allows cellophane, pilofilm, saran, and vinyl polyethylene to move freely over sprayed surfaces
Prevents buildups of sugars and food, allowing for fast and easy cleanup
Can be used at low temperatures without freezing...used as a low temperature chain and cable lubricant in freezers

Environmental Specifications:

RoHS Compliant
Contains no propellants
Contains no CFC's or ozone depleting chemicals
Contains no ozone‐depleting chemicals
Contains no solvents